The E2.10 towline has a protective cable design and can be quickly opened for quick and easy assembly.
From general mechanical engineering to medical technology, many mechanical components are required to be space-saving, rugged and easy to assemble. In order to meet these requirements, igus has introduced the miniature drag chain E2.10, which has an internal height of only 10 mm and a minimum bend radius, making it ideal for use in tight installation spaces. The chain links of this series are composed only of bottom/side parts and crossbars, and have a silent operation and cable protection design, which can be easily assembled with the opening tool.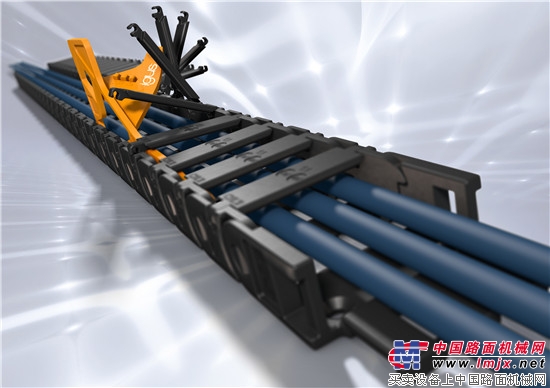 PM6717-1
In a small space in the machine, it is critical that the cable is safely powered in high dynamic operation. To ensure this, sports plastics expert igus has introduced a compact miniature towline in its product range. The E2.10 model in the E2.1 drag chain series has an internal height of only 10 mm and an external height of 15 mm. Therefore, it is very suitable for use in extremely small spaces. Like all links in the E2.1 drag chain series, the links of the E2.10 chain are composed only of the bottom/side parts and the crossbar and can be easily opened from the upper side with a screwdriver. The tool for quickly opening the drag chain is delivered with the first order. With the quick-open tool, the drag chain can be opened in just a few seconds, and the drag chain can be easily closed by hand after the cable is installed. The E2.1 towline series features a rugged stop block that increases the overhead length by 25% and 100% fill weight while being 10% lighter than the same type of drag chain. The "brake" on the link stop block ensures that the towline runs quietly. As a result, this towline range excels in applications such as automatic doors, vehicles and medical furniture.
Cable protection and easy to assemble design
The lightweight and rugged E2.1 miniature towline range is suitable for a wide range of demanding applications. Now, igus has further expanded the E2.1 series of models, adding three internal and high dimensions, which are 26, 38 and 48 mm. The inner contour of the towline is smooth and protects the cable. Compared with the pre-optimized version, the new E2.1 series towline has an internal height increase of 3 mm under the same external height. For the internal design of the towline, igus also offers sleek dividers to extend hose and cable life. In order to accurately install the separator, the crossbar is marked with a scale.
Chainflex high flexible cable for small installation spaces
In order to achieve optimal operation of the towline and cable, igus has developed a chainflex high-flex cable for the towing chain. For example, using chainflex CFBUS.LB.060 Profinet high-flex cable, it is possible to transfer data in extremely small spaces with a bend radius of only 7.5 xd. All chainflex high-flex cables are rigorously tested in an igus internal test laboratory with an area of ​​2,750 square meters. Therefore, igus is the only cable manufacturer in the world that offers a 36-month warranty. In addition, in order to make it easier for customers to open applications faster, igus also offers a plug-and-play assembly towline, a complete system consisting of a towline and cable. (This article is from igus)
Handheld Laser Welding Machine
Fiber laser welder is handheld, it can be processed on any place of the welded objects conveniently and flexibly. Also the laser welding mchiane is with the intelligent controll system, it's easy to learn and one day is enough for non-experienced worker. The fiber laser welding machine helps you for saving hiring experienced and skilled workers which helps you saving labor cost. And with a very good welding effect, no need for following process like polishing. This Laser Metal Welding machine is a very good choice for you with economical cost.
Hand Laser Welder,Laser Welding Machine,Laser Welding Machine for metal
Ande Laser Intelligent Equipment (Guangdong) Co., Ltd. , https://www.andelaser.com