The light reflected on this quantum mirror is reflected by an art display image Source: Funny Science Website
According to the American Fun Science website recently reported, two independent scientific research teams have respectively developed the thinnest mirror so far - only one atom of molybdenum selenide (MoSe2) flakes, this engineering miracle will be the physical world's The limit advances one step. Researchers say that this thin mirror can be used to develop very small specialized sensors and computer chips that use lasers to transmit information.
Scientists at Harvard University and Zurich Institute of Quantum Electronics in Zurich developed such mirrors in their respective experiments. Although the thickness of these mirrors is close to the smallest possible thickness of the object, they can reflect much of the incident light - Harvard team's mirror is placed on a silicon base and can reflect 85% of incident light; the Swiss team's mirror is placed On the silicon oxide base, 41% of incident light can be reflected. Both mirrors reflect light that is deep red in the 780 nm range.
Scientists explained that if one violently impacts a proton or light particle in an atom, the electrons are likely to transition from a low-energy orbit to a high-energy orbit. In this way, an electron-hole pair will form within the electric field. When exposed to certain wavelengths of light, electrons around MoSe2 are likely to also transition. The electrons are negatively charged, and the protons in the nucleus are positively charged. Therefore, these electron-hole pairs will draw positive charges from the protons, making holes behave like particles. Nearby negatively charged electrons will attract these "false" particles and, in some cases, pair with quantum mechanics objects called excitons. These excitons themselves release light, interact with the incident light and send it back in the way it was incident. As a result, these MoSe2 sheets work like a mirror.
The researchers said that the voltage applied to the MoSe2 wafers will fluctuate due to their different voltages, and this effect will occur very quickly, so it is expected to be used in areas that require high-speed computing.
The latest research was published in Physical Review Letters.
Water Cooling Belt
1.Application:
Water cooling belt is thrird machine for powder coating production line, which is widely used for powder coating industries.
By the way it can be used in chemical, pharmacy and food industry.
2.Main Characteristic:
1. High cooling efficiency; High capacity
2. Min area occupation
3. High quality imported stainless steel belt
4. Hard chrome plated cooling roll
5. Overload alarm and protection system for cooling roll and crushing system
3.Machine Picture: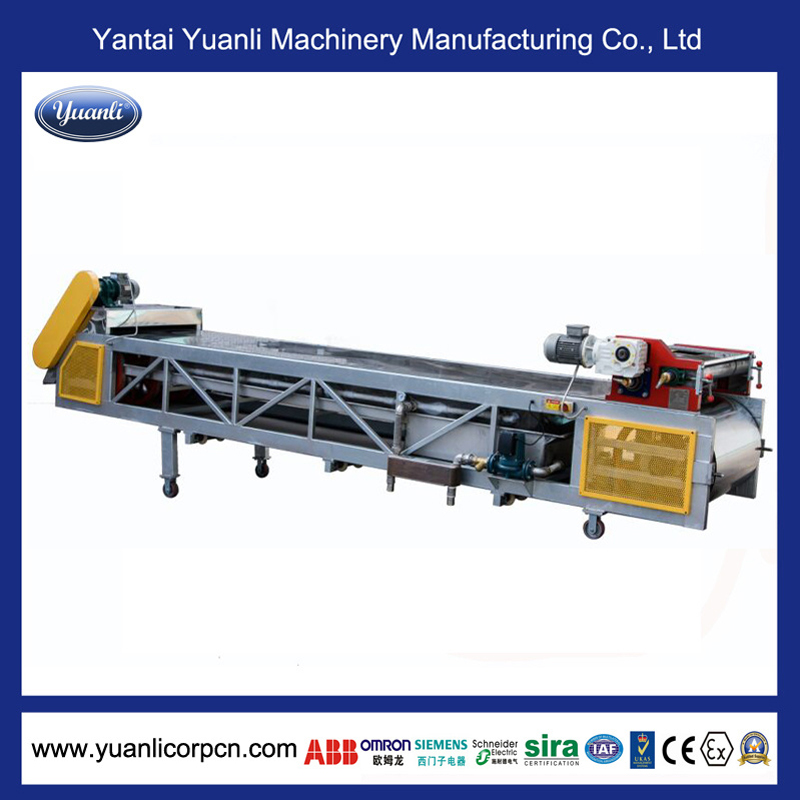 4.Our Advantage & Service:
-Technical Support Online Service Provided
According to customer's requirement, we provide layout (plant designer), excellent mechanical engineer, excellent electrician, etc.
-On-site Training Service Provided
In customer factory, we provide all kinds of training, including installation, commissioning
-Long-term Maintenance Provided
In the area of maintenance, we offer needs-oriented and standardized maintenance packages, such as the overhaul of components, gearboxes, in order to guarantee the safe and economic operation of plant and machinery.
-Spare Parts Replacement and Repair Service Provided
Providing spare parts for all kinds of powder coating processing equipment in long-term. And can provide tailored made spare parts according to customers' requirements. Ensure advanced craft, good material and high precision.
-Formulation Provided (our advantage):
Some customers are worried their final products if can get best result, we have our own formulator (Engineer for powder coating formulation) who is testing and updating the formulation according to customer requirement all the time. And have very good experience for the formulation to support customer to make different effect powder coatings.
We can supply all Powder Coating Raw Materials( polyester resin, epoxy resin, barium sulfate, gloss agent and so on) in the formulation.
Powder Coating Water Cooling Band, Water Cooling Conveyor,Cooling Belt,Powder Coating Water Cooled Cooling Band
Yantai Yuanli Corp Ltd , https://www.yuanlicorpcn.com