Fiber Optic Sensing and Safety IOT Applied Technology Symposium was held in Shandong Academy of Sciences
Dazhong Network November 22 (Reporter Bai Wei) According to the national security science and technology "13th Five-Year Plan" deployment and the State Administration of Work Safety on relying on science and technology Xing'an, mechanized substitutions, automated reduction and the State Coal Mine Supervision on coal mine safety Monitoring system upgrade work requirements, combined with coal mine in Shandong Province has a serious risk of natural fire safety needs, November 19, 2016, by the Shandong Coal Mine Safety Supervision Bureau, Shandong Academy of Sciences, China Coal Science and Industry Research Institute of Shenyang, the State Administration of Work Safety "Mine Safety Optical Fiber Test R & D platform" and other units jointly organized "Fiber Optic Sensing and Safety IOT Applied Technology Seminar" held in Shandong Province Academy of Sciences East.
Shi Weizu, former inspector of SAWS, Yang Yimin, deputy inspector of Science and Technology Equipment Department of China Coal Monitoring Bureau, Tian Xueqi, chief engineer of Shandong Coal Regulatory Bureau, Wang Yinglong, Secretary of Shandong Academy of Sciences, and Shenyang Research Institute of China Coal Science and Industry, Changzhou Research Institute, Shandong University of Science and Technology , China Mobile and other units of the leadership and coal mine safety and Internet of Things experts attended the meeting. The meeting also attracted about 300 participants from regulatory authorities, coal mining enterprises and scientific research institutes and technicians from all over the country in the field of safety in production.
Researcher Liang Yuntao and Feng Wenbin from Shenyang Institute of Coal Science and Technology made a report on coal mine fire prevention and big data analysis. Prof. Lu Xinming from Shandong University of Science and Technology introduced "Mine Automation Ventilation and Fire Prevention and Extinguishing Technology" and China Mobile experts introduced the Internet of Things wireless transmission components And cloud service platform. The three experts such as Liu Tongyu, Wei Yubin and Song Weixiang from Shandong Weiwei made the research progress of fiber optic sensor and safety IOT, laser / optical fiber methane sensor, multi-gas sensor, and distributed optical fiber temperature measurement Coal mine gob fire monitoring system "report, with a number of successful cases introduced optical fiber distributed temperature sensor in the coal mined area fire monitoring and early warning of the successful application; Yankuang Group Xinglongzhuang Coal Mine, Shaanxi Huangling Group, Shannon Zao Mine On-site experts introduced our hospital optical fiber sensor in the mine safety and intelligent protection, goaf fire prevention and control of the successful experience, representatives have a greater response. Dozens of coal mines, product manufacturers and research institutes have expressed their intention to carry out strategic cooperation with our hospital. We hope to continue holding similar seminars and strengthen collaborative innovation and promotion of results.
The symposium set up a high-level exchange platform for technical supervision, scientific research institutes, equipment manufacturing enterprises and coal mine safety management for technical exchanges, promotion of results and win-win cooperation. It provided a cross-section of experts in optical fiber sensors, coal mine safety and coal mine field experts Exchange ideas and effectively promote synergetic innovation in politics, industry, academia and research, make better and faster use of optical fiber sensing technology in disaster prevention and control of spontaneous combustion in coal mines, and make contributions to enhancing the safety of coal mines in our province and China. The participating management agencies and experts and scholars unanimously requested that more seminars be held and the seminar be organized into a series of conferences so as to promote not only new technologies and new products, but also the promotion and promotion of coal mine safety technology upgrades.
It is understood that the contractor of the Shandong Academy of Sciences Institute of Laser, is established in 2005 optical fiber sensor research and development platform, focusing on research and development of mine optical fiber sensor engineering technology and safety monitoring system. Over the years, with the strong support from the State Administration of Work Safety, the State Administration of Coal Mine and the Shandong Coal Mine Supervisory Bureau, it has undertaken more than 10 national 863 projects jointly with well-known institutes and large-scale enterprises such as Coal Science General Hospital, Yankuang Group and Shannon Group, Science and technology support program, international cooperation and provincial independent innovation, the transformation of achievements and other major projects, developed a series of sensor products, the establishment of a new generation of coal mine safety monitoring and early warning technology and equipment for optical fiber sensing system, significantly enhance the safety of coal mine safety level. Our hospital actively supported the development of this platform and raised 15 million yuan to launch a major innovation project entitled "Research on Key Technologies of Optical Fiber Intelligent Sensor and Mine Safety Internet of Things" to protect the "four batches of" safety science and technology projects of SAWS The success of the achievements transformation, especially the "laser methane sensor" and "gob ignition fiber temperature warning system" in a number of coal mines successfully applied to effectively prevent coal mine fire, reducing the cost of disaster prevention and achieved significant economic and Social benefits. The achievement was awarded the first prize of China Coal Industry Association in 2013 and the first prize of scientific and technological progress in Shandong Province in 2015. In 2015, the project was approved to establish the "Mine Safety Optical Fiber Detection and Development Platform" by the State Administration of Work Safety. In 2016, Sensor and Safety Internet of Things International Joint Research Center "and the National Development and Reform Commission" Resources and Environmental Optical Fiber Intelligent Detection Technology National Joint Engineering Laboratory. " In early 2015, Shandong Academy of Sciences and London Metropolitan University and the University of Queensland in Australia jointly organized an international conference on "Optical Fiber Sensor and Safety Internet of Things" in Jinan as an international academic exchange platform to enhance the international influence of mine safety fiber sensing research in China , Promote mining optical fiber sensing products to the international market has played a positive role.
Clear PP Cups for Cold drinks, Beverage,Ice cream,Jelly,Milk tea,Coffee, tea, juice etc, are made of Good grade high-quality PP material. There are 3 sizes of our plastic cups, 7 oz, 9 oz or 12 oz. Packing could be customized. Standard as 50 pieces into one Bag. The packing could be with or without printing. With light weight and convenient to carry, the disposable cups fit to be used in various wedding ceremonies, birthday parties, restaurants, and hotels.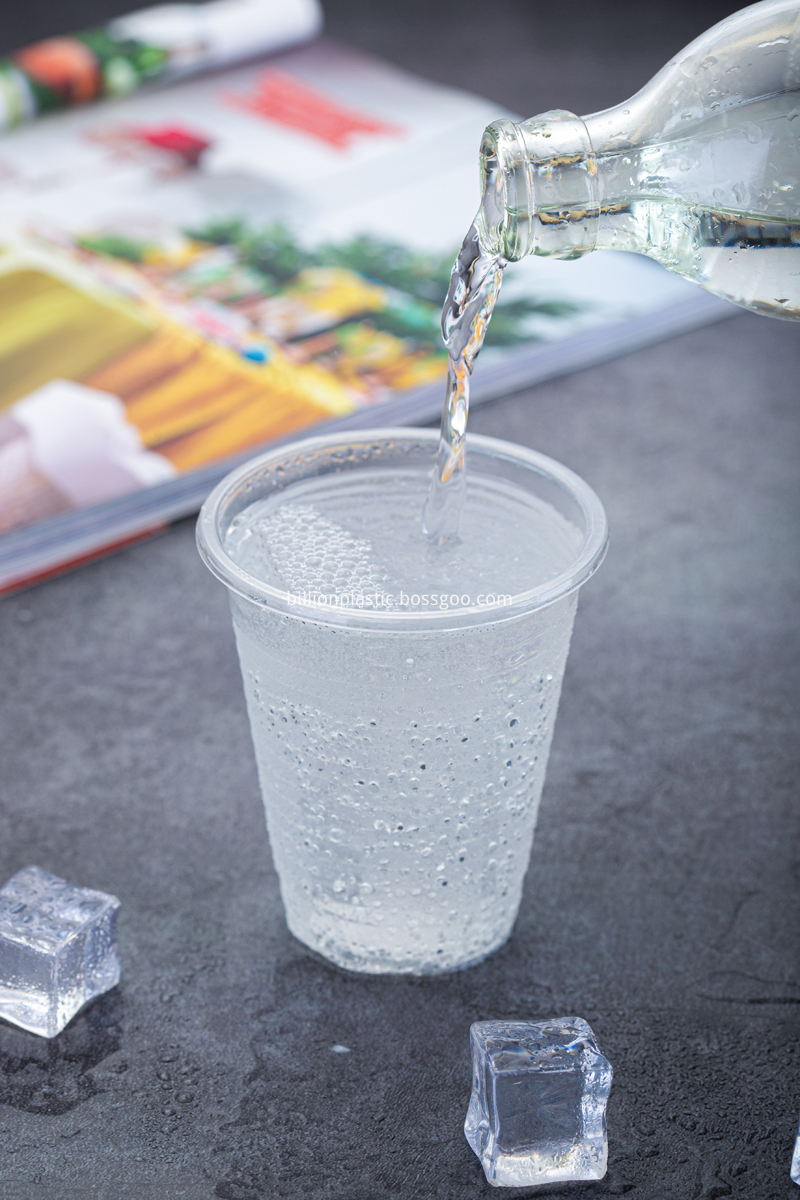 Plastic Cup, Disposable Plastic Cup, PP Plastic Cup, Food Grade PP Plastic Cup, Water Plastic cup, Disposable Plastic water cup
BILLION PLASTIC MANUFACTURING CO.,LTD, JIANGMEN , https://www.jmfoodpackagingbag.com