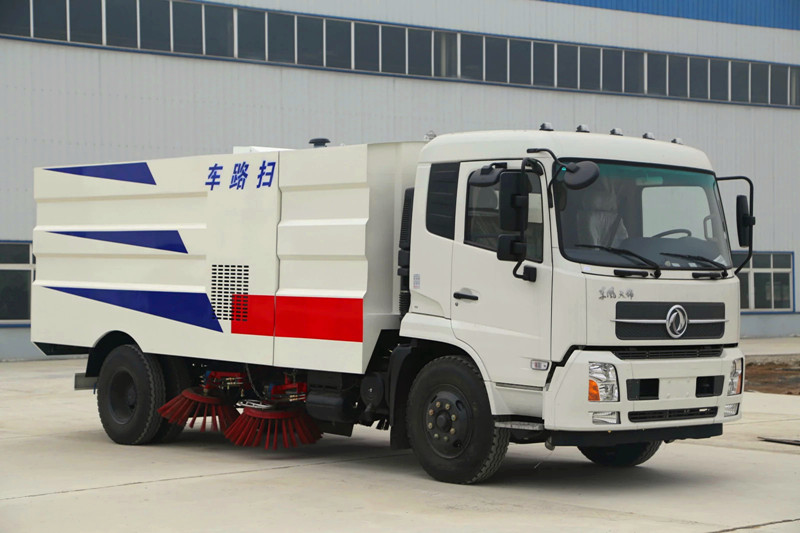 Vehicle Model: CLW5160TSLD4 Sweeper
1. Using suction sweeping method to collect garbage, wet dust removal, electro-hydraulic control, and hydraulic tilting discharge operation to clean the road surface.
2. The auxiliary engine is used to drive the fan and hydraulic system to ensure that it can continue to work during the driving process and ensure the continuity of the cleaning process.
3. Adopt the structure layout of "four-swag-pan plate + spray dust-removal device + center partition plate + rear suction nozzle" so that sand and gravel will not be splashed during the cleaning process. This arrangement facilitates the adjustment and maintenance of cleaning devices and suction cups. Good vehicle passability during field operations.
4. An automatic clutch is provided for the transmission between the secondary engine and the fan to ensure that the secondary engine is automatically disengaged from the fan when it starts and stops without load, which reduces the impact on the secondary engine and improves the reliability and use of the secondary engine. life.
5. The sweeper has an automatic obstacle avoidance protection function and an automatic reset function when encountering obstacles. It will automatically retract when obstacles are encountered, and will automatically return to the obstacles.
6. Rotating speed can be adjusted according to different cleaning conditions to ensure good cleaning effect under various pollution conditions.
7. It adopts advanced, high-efficiency dedicated fans and full-floating nozzles that can automatically level with the road surface. The cleaning effect is good and the service life is long.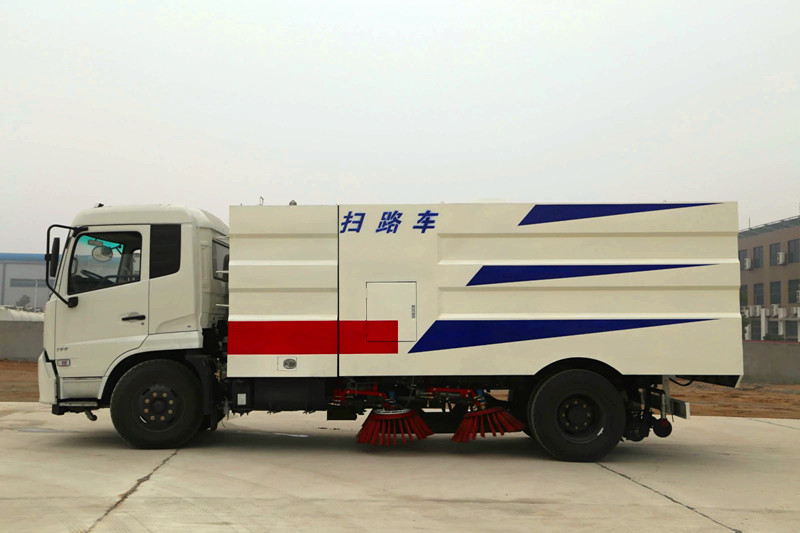 Dongfeng Tianjin Road Car
Chassis model: DFL1160BX5
Engine Model: ISB180-40
Engine power: 132KW
Dimensions: 8090×2470×3050mm
Working width: 3.2M
Inhalation particle size: φ120mm.
Water tank capacity: 4m3
Trash capacity: 7m3
Large operating capacity: 16000m2/h-64000m2/h
Tops standard: 4 sweeps, Cummins 140 hp auxiliary engine, Sanyo motor, French Schneider control switch, Hyprix solenoid valve, continuously variable automatic clutch, maintenance-free centrifugal automatic fan, stainless steel dustbin, tail LED arrow Indicator light, manual pump emergency system, garbage lift dump function.
Optional configuration:
1. Optional trash self-cleaning function
2. Optional reversing monitoring function
3 optional preload, post-sprinkling function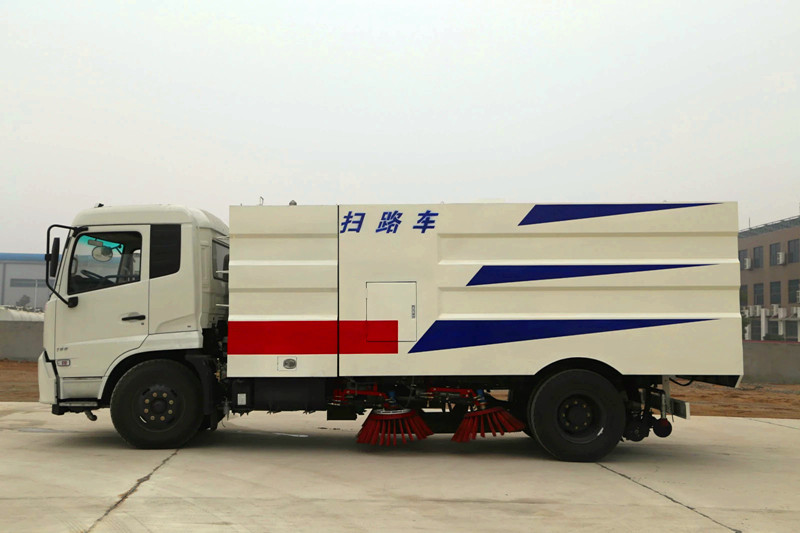 Quotation Description: Due to different loading configuration and engine configuration; so the vehicle price is different, you can contact us before buying a car, we will give you the appropriate model configuration and preferential price according to your needs, welcome to inquire
Degreasers and deoiling agents for pretreatment and one bath degreasing and dyeing processes.
A formulated product composed of special surface active agents, used for the scouring, wetting, and degreasing in pretreatment for all kinds of fabric by continuous and exhaust process, with excellent emulsifying, wetting, scouring effect.
Properties And Advantages
Excellent emulsifying power to oils and wax, low foaming, good removal and excellent anti backstaining of oil and impurities on fabric.
Application
For the pretreatment, dyeing, printing, and finishing of all kinds of fabric and yarn.
For the dyeing and finishing process where better wetting power is required.
Remarks
Keep drum closed properly to avoid mixing with water or impurities after open.
Stability information
Freeze resistance: product will trun to jellish when temperature below 5 ℃, and it will revover when temporature up, application performance remaining same.
Package and Storage
Plastic drum.
One Year.
Stored in cool, dry and ventilated place. Avoid direct sunlight and rain.

Degreaser, Deoiling Agent, Oil Removing Agent, Pretreatment, One-bath Degreasing
Dymatic Chemicals, Inc. , https://www.dymachem.com